Item #

00914944000P
Model #

14944
Build Your Custom Workbench with the Craftsman 8' Metal Workbench Backwall
You want a bench that combines custom convenience for you with space for organization for your tools. The Craftsman 8 Ft. Workbench Backwall can provide just that your for your garage, tool shed, or personal workshop. Back wall Height is 26" High, or 66" High measured with posts,

Mount this directly to your existing Craftsman workbench to provide light, power and additional organization. The 6-outlet power strip provides power for your drills, batter chargers and clock radio.
The all-steel construction with pegboard gives you stability and light-weight organization all in one.
Craftsman 8' Workbench with Backwall lets you stay organized
Includes work light, 6-outlet powerstrip and pegboard
Fits with other Craftsman workbenches
More Information
Feature Highlights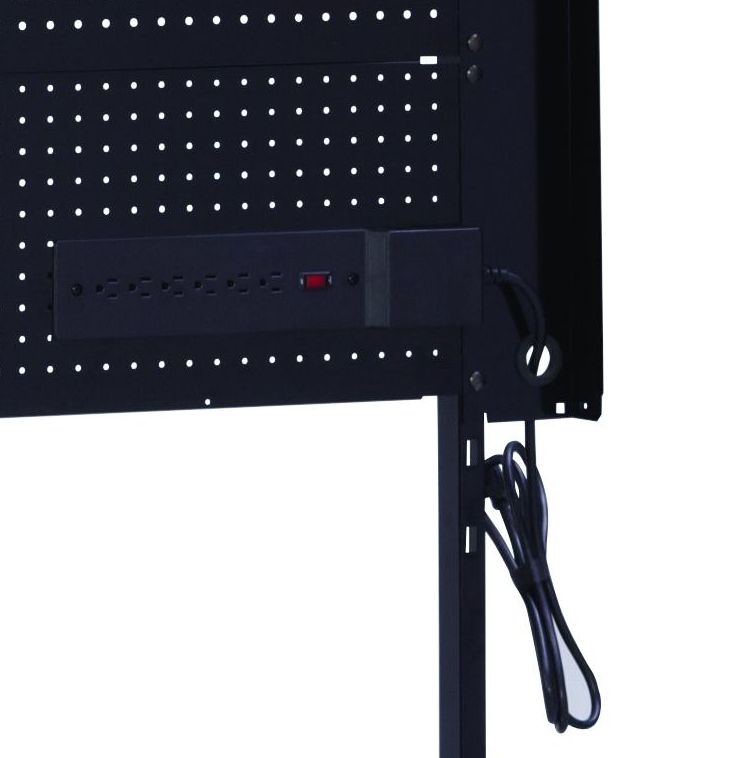 Access to Power
The built-in power strip is ready to serve up the wattage.

All Steel Construction
Store your tools in a box built from nothing but steel
Specifications
| | |
| --- | --- |
| Dimensions: | |
| Length (in.) | 8 |
| Width (in.) | 96 |
| Depth (in.) | 8 |
| Height (in.) | 66.25 |
| Table Dimensions | NA |
| | |
| --- | --- |
| Product Overview: | |
| Item Weight (lbs.) | 56 |
| Wheel Material | NA |
| Caster/Wheel Size | NA |
| Lock Type Included | NA |
| | |
| --- | --- |
| Color: | |
| Color/Finish | Baked Enamel Black |
| | |
| --- | --- |
| Capacity: | |
| Capacity (lbs.) | NA |
| Drawer Load Capacity (lbs.) | NA |
| | |
| --- | --- |
| Chassis: | |
| Adjustable Feet | No |
| | |
| --- | --- |
| Storage: | |
| Capacity cu. in. | NA |
| Reversing Worksurface | N/A |
| Cabinet Door Lock | No |
| Locking Casters/Wheels | No |
| Number of Compartments | NA |
| | |
| --- | --- |
| Table: | |
| Worksurface Material | Steel |
| Worksurface Rounded Corners | No |
| Worksurface Banded Edges | No |
| Worksurface Back Trough | No |
| Worksurface Side Tray | No |
| | |
| --- | --- |
| Case: | |
| Case Material | Steel |
| | |
| --- | --- |
| Materials: | |
| Drawer Material Thickness (ga.) | NA |
| | |
| --- | --- |
| Installation: | |
| Assembly Required | Assembly Required |
| | |
| --- | --- |
| Package Includes: | |
| Package Contents | Steel Backwall, Worklight and Outlet Strip |
Properties
SoldBy
Sears
ItemPNO
00914944000
MfgPartNumber
14944
BrandName
Craftsman
ProductURL
/craftsman-8'-metal-workbench-backwall
FulfilledBy
Sears
Identity

SSIN : 00914944000P

UID : 16516c05-62d2-4a74-845c-bf75011efe10

PartNumber
00914944000P