S2000 41 in 7-Drawer Workstation (Red)
Stock your garage or workshop with this long-lasting S2000 41-in 7-Drawer Workstation. Your multi-faceted organization solution, the Workstation optimizes storage space while making sure your trusted tools and attachments stay in place when you're ready to use them. Its solid steel frame was designed for longevity, while the drawer slides protect the life of the Workstation by closing the drawers without slamming them shut.

FULL EXTENSION DRAWER SLIDES: Support 100-lbs. of product
SURFACE PROTECTION: CRAFTSMAN® embossed top mat and drawer liners protects surface on top of the rolling cabinet and in every drawer 12,600 cubic inches of storage
SAFEGUARD YOUR TOOLS: Keyed internal locking system safeguards your tools with a Craftsman over mold key
DURABILITY & STRENGTH: 1,500 lb. load rating with 5-in x 2-in casters with toe locking brakes and reinforced mounting casters
BUILT TO LAST: 18 - 20 ga. steel I-Frame construction
MOBILITY: FULL GRIP TUBULAR SIDE HANDLE FACILITATES TRANSPORT

Product Depth:

18

Measurement Standard:

SAE

Number of Drawers:

7

Number of Pieces:

1

Product Height:

33.0 IN

Product Length:

45.0 IN

Product Weight:

160.0 LB

Product Width:

21.0 IN

Total Weight Capacity:

1500

Warranty:

10 Year Limited Warranty

(7) Drawer Liners In Every Drawer. Top Mat For The Tool Cabinet Surface. Set Of Keys. Caster Set. Side Handle And Hardware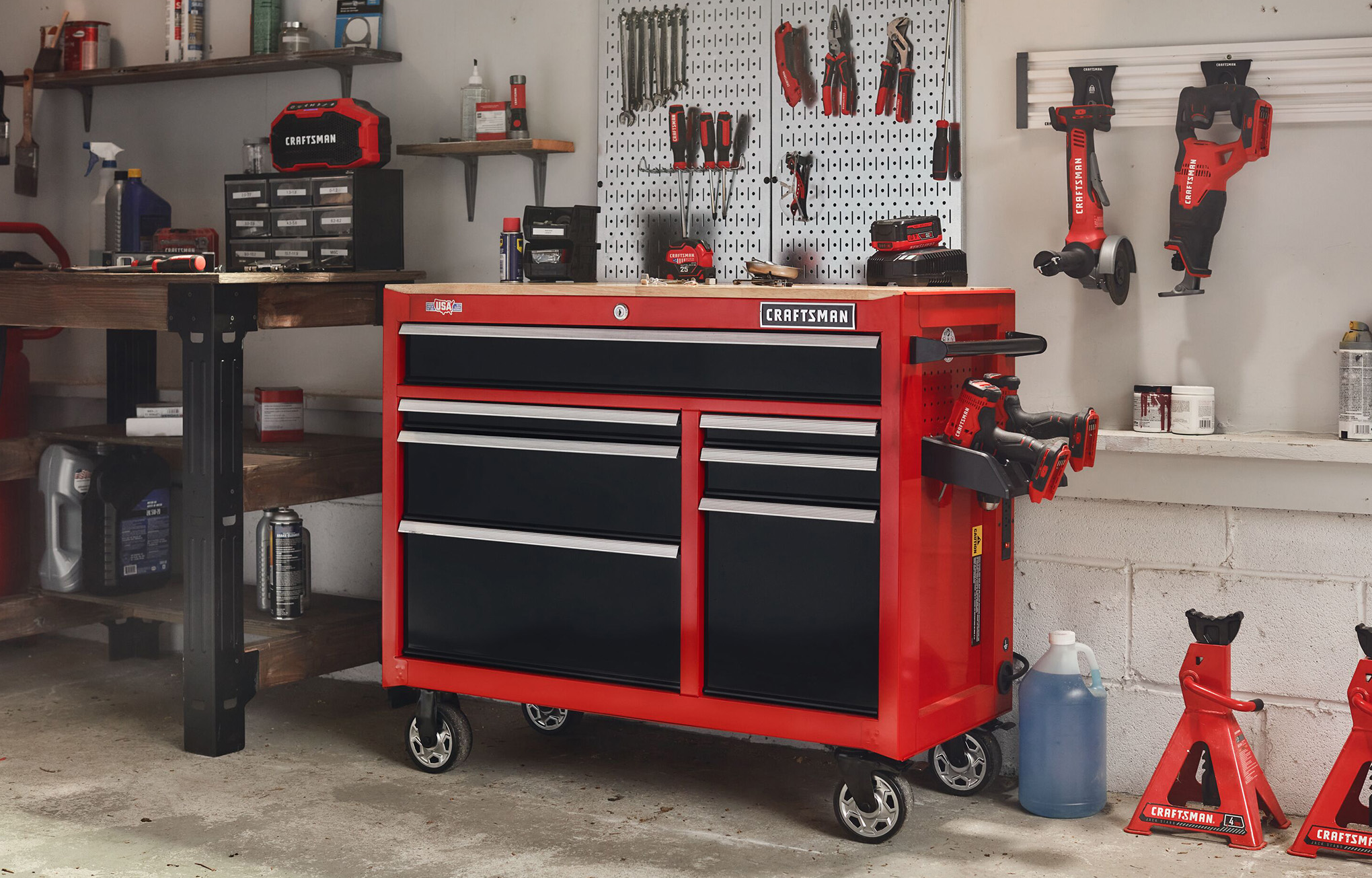 Lots of Tools? Bring Them On
Featuring 18-20 ga. steel I-Frame® construction and 1,500 lb. load-rated casters, this tool cabinet can hold them all. A 12 in. deep drawer is ideal for large power tools. Ball-bearing, soft-close drawers can hold up to 100 lbs. each.

Build Your Storage Solution
The more tools you have, the more storage you need. Discover the CRAFTSMAN® variety of solid steel metal storage chests, cabinets, and units.
Shop Metal Storage